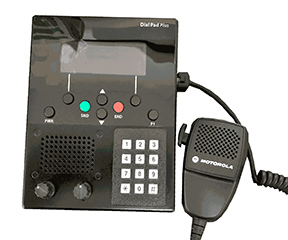 DialPad Plus is a direct replacement for Hughes G2 mic systems.
DESIGNED BY AND MANUFACTURED FOR STS, THIS UNIT IS PLUG-N-PLAY COMPATIBLE WITH HUGHES G2.
Use inexpensive, off-the-shelf mics.
Up to 3 units may be daisy-chained on 1 radio.
LCD dimmer and volume controls.
Compact unit - dimensions: 6" x 7" x 2.5".
Simple Plug-N-Play installation.
Illuminated display viewable in any lighting condition.
Optional privacy handset available.
Two-year warranty from installation date.
Contact a [ STS Dealer ] near you for MORE INFORMATION