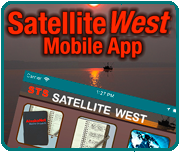 Now there's more than just convenient Internet features with the Satellite West App. We've added SMS TEXTING features that WORK WITHOUT WEB ACCESS. Get Marine WX, Aviation WX, Ocean Buoy Data, and more on your SMS enabled device - pair with the BIVY STICK for example.
---


---

STS SeaMail is the most efficient way to access your email account and Internet data while on the water or in remote locations. STS SeaMail is based on the original, proven compression algorithm. It is simply the fastest, easiest-to-use and most reliable satellite phone email available, saving you time, money and frustration.
---
STS SeaMail + the OPTIMIZER is the best solution available for Internet connectivity. Sophisticated data compression saves you expensive connect time. OPTIMIZER transfers data via local Wi-Fi enabled devices - instantly!